"The staff were awesome" " This was my first holiday (Bali July 2014) in many years without my husband, without my carer, and without a respite building in sight. I was nervous and scared, that lasted about 3 hours. I was always treated carefully and with dignity and respect, the staff were awesome, always happy and cheerful. I had hoped to have an enjoyable time but I had a great time. I have no hesitation to recommend discovery holidays for anyone regardless of mobility or impairment or age - you will be in great hands." (Diana and John, WA)
I made some new friends I had a good time in Darwin. Louise was my room mate and we became really good friends. I especially enjoyed the shopping, the Sunset River Cruise and the cook your own Chinese food. I would love to go to Bali for my next holiday. I had lots of fun!
Well organised My favorite parts of the holiday to Gold Coast -Revolving restaurant, Movie World & Paradise Country. Daily morning check-up & well organised
Look out for the Crocs!!! Darwin...a great place to have a holiday. I enjoyed all the amazing tours, yummy food and the staff were fantastic... I love going on tour with Discovery Holidays - I have the best time!
Jess in Bali Had an awesome time in Bali loved everything especially the Turtle Island and Safari Park and being here with my buddies, food was great the people were always kind and welcoming and Elaine did a fantastic awesome job at keeping us all happy and healthy. I can't wait to come on another holiday with Discovery Holidays... I am saving my money it will be Awesome! Jess
Stefan's Bali

My favorite time in Bali was the friendly people the hotel where we stayed and the swimming pool and going shopping for clothes. I also loved holding a cute monkey and having my photo taken with a tiger and going out for dinner. I picked a ninja turtle t shirt. Thanks Elaine and Discovery Holidays for an amazing time and I will be saving my money for my next holiday with them. Stefan
Just loved cruising Cruising from Sydney to Tasmania was a great experience. I loved stopping at all the ports along the way. I especially enjoyed disembarking in Burnie, where we visited the wildlife park there and experienced holding a Tasmanian Devil a Wombat and a Koala. Great Times... thanks Elaine for a fantastic holiday.
Travel Bug My sister Emma has been on a number of camps, cruises and holidays abroad with Elaine and Kass. These trips are the highlight of Emma's year. While Emma has been on lots of holidays with the family, she really enjoyed the opportunity to holiday with her friends. Elaine and Kass supported Emma to have the holiday she wanted, her way. Whether it be staying in and ordering room service, cruising around down town Kuta on the back of a scooter or having cocktails for breakfast, Emma was supported and encouraged to have the holiday of her dreams. I have seen Emma grow and become more confident and independent since being involved in the various adventures organised by Elaine and Kass. She has been able to do things that she never thought possible- the sky's the limit. Thank you so much!
Everything was perfect. The (Gold Coast) holiday was well planned. I enjoyed all the activities.
I felt very confident that my support worker was fully aware of my needs and provided excellent care throughout the trip.They made the whole holiday really fun and exciting.I didn't want to come home! everything was perfect. (Nellie, Perth WA)
Had a Blast! Just been on holiday with Elaine and the older boys. Had a fantastic time, loved the Etihad Stadium Tour, had drinks and a general blast. I would definitely choose these guys anytime. Well done Elaine & Kass.
Trish's Busselton Getaway Busselton is a great place to visit. I had a wonderful time. I especially enjoyed the Dolphin Cruise, having lunch at Cicerello's visiting the Busselton Jetty, it is very big!. Thank you for a great holiday, and I am looking forward to going to Sydney in June 2015...see you then!
Rachel's Cruise At 91 and I thought I had left it to late to go on a cruise...but with a little help from Elaine and Kaye I managed and really enjoyed the experience. The entertainment was great-especially the evening shows. There were lots of games available- even if the scrabble was a German edition. Elaine & Kaye were always there for support and to carry things as I found it difficult to do this on my own. Help was always near by. Thanks Discovery Holidays I had a wonderful time. Rachel.
Rocked until we dropped... 8 awesome days in NSW to see the Tamworth Country Music Festival opening weekend and Sydney sights.
Tara's Coastal Cruise Had an awesome time on the Astor with Kass and Elaine and the gang. We danced and partied till late, the shows were really great, and the male dancers even better. This was a great weekend away, and I can't wait to take another Discovery Holiday.
Wow, you guys are fantastic Wow,
Myra's 25 day UK Holiday Wow...what a holiday! I visited London & Scotland. I loved seeing all of the iconic sites in London & Scotland, especially my trip to Wimbledon. I visited my family to celebrate my birthday and to spend time with my mum, sister, aunties and my nieces. I am off again in March to visit my Mum for her 80th birthday. Cannot wait! Thank you Discovery Holidays for a great trip I could not of asked for better.
Magical Time in Queensland! The best experience ever! Brisbane the Sunshine Coast and the Gold Coast are great places to visit with so much to see and do. Check out my photos on Facebook and you will see what a wonderful time I had. Could not of asked for better! Thanks Discovery Holidays... Magical!
Everything was pretty good I had a great time in Darwin...I especially enjoyed the Crocodile farm... It was very interesting, I loved the hotel, the food and all the activities. Thanks heaps Discovery Holidays!
Had a great time on the Pacific Eden Love cruising with Kass. Had a fantastic time!!
Judith's Holiday My favorite time in Bali was the going to Turtle Island and the boat trip over there. I also rode a camel and an elephant for the first time. I enjoyed the food and going away with my friends. Thank you Discovery Holidays for an amazing time... I cannot wait for next holidays with you. Judith.
Fantastic time in Bali! I had a fantastic time in Bali, I enjoyed better than my first visit to Bali back in 1986. I am very happy and relaxed and I had a really good time. I couldn't of asked for better. Thank you for a fantastic holiday. Next holiday for me is the Comedy Cruise and Discover Melbourne...cannot wait!
BEST EVER ROAD TRIP - Perth, Esperance, Albany, Perth Individual Custom Holiday.
It was a fantastic trip, we travelled 2317km and I will remember it for a very long time...I visited my Nana in Esperance and explored our fantastic countryside. I cannot wait till next year to do it all over again. Jason
Good Times! Thanks Discovery Holidays for the good times in Darwin. I experienced swimming with the baby croc's...THRILLING! a special thanks to Elaine, Kaye & Flo... you guys are great! Looking forward to my next trip to Sydney in 2017!
Love Crusin.... Crusing the Indian Ocean aboard the Pacific Eden to Margaret River was the best!! Thank you Kaye for your support & Thanks Discovery Holidays... the holiday was amazing - see you next year!
Stress - free & Fun.... I very much enjoyed the activities included in this holiday, in particular the Crocodylus Park. I enjoyed the support provided by the friendly and accommodating Discovery Holidays staff. The staff made my trip stress-free and fun.
Jess's Bali Diary Blog DAY 1

I've been waiting all 6months for this holiday with discovery holidays counting down the days until id finally fly out of Perth to Bali. Yesterday i came from Harvey and didn't sleep all night in anticipation for flying out of Perth today. I arrived at Perth international airport at 5am this morning and met up with my buddies. Flights were all on time and we arrived in Bali with VIP customs service which made for a speedy exit towards our van for transfer to our hotel. The hotel grounds are stunning and we had a refreshing fruit punch on arrival, we each had a cocktail while we were waiting for our rooms. We changed money at the money changer so we could buy some things from the shop such as snacks and drinks for our bar fridge. We then changed into our swimmers and went for a lazy swim with Gregory Judith and Stefan. We swam under the waterfall which gave you a fabulous back and neck massage with the water pounding on us, the water was crystal clear and lovely and warm. We then went to lunch at the beach where I had fresh crab and corn soup with freshly made herb rolls...they were yummy. We did have some friendly bees wanting to join us for lunch they were having a fantastic time with the sugary drinks. After lunch we came back for a shower and a relax, I watched a bit of animal planet before I dozed off. When I woke it was time for pre dinner drinks on the veranda overlooking the luscious gardens and pool area with Elaine Judith Stefan and Gregory. We watched the squirrels playing in the trees and the bats flying round while we were having drinks. Then we went for dinner at the wharf restaurant where we all had cocktails and a magnificent dinner. I had a salmon steak with mushroom sauce minted potatoes mmmm, we ate whilst being serenaded by 2 Balinese singers and watched while Stefan and Judith performed an amazing dance. We discussed what we would do tomorrow we are going on a cruise to see the turtles and the wildlife and reptile park. Awesome day! Talk again soon, Jess.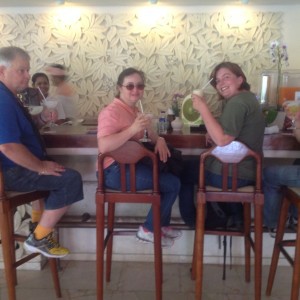 DAY 2

Woke up to beautiful sunshine coming through the window. I got up and got dressed and went to breakfast, the food was to die for- they have everything imaginable all in different stations. There is the porridge station the fruit station the egg station which you could have anyway you like. There is fresh fruit drinks which I love.

At the lobby we met with "Made" the tour guide to choose which toros we wanted to go on. Then it was off to the pool for a swim with my buddies and a waterfall massage and a fruit punch at the swim up bar to watch the Melbourne cup race. We then went to the the hot and cold jacuzzi for a relaxing soak. Stefan was amused at the sucking sound the the jacuzzi was making. Judith, Gregory and I braved the freezing cold jacuzzi it was so funny the look on Gregory's face when he got in. It was freezing. We then did some sun baking on the the sun beds and fell asleep for a bit under the umbrellas. It was off to lunch now for a yummy Boston clam chowder which Elaine loved too. Judith had the spaghetti marinara, Stefan had a huge burger and Gregory had a club pitta sandwich which looked and smelt amazing.

We then went to the beach for a relaxing massage- we had the works with nails hair braiding foot massage etc... Whilst we were waiting 2 squirrels fell from the tree fighting- they will have sore heads tomorrow. We were so relaxed after our massage we went a had afternoon drinks at Elaine verandah where we sore a friendly but very ugly frog with amazing coloring on its back and watched the bats flying around. We then got a maxi taxi to sheppys bar for dinner. We all had wonderful food while we watched the night life go by. On the way back from dinner we looked at all the different shops restaurants and hotels and finished the night of watching the fireworks. What a wonderful day. Talk tomorrow.




Day 3

Woke up this morning with the sun streaming through the window because i forgot to shut the curtains. I started to get ready then realised it was only 5.20 am, I went back to bed. I had breakfast and it was amazing the Balanise coffee was really good considering i do not usually drink coffee. after breakfast we met with Marde our tour guide up in the lobby to take us up to Sanur to Senangan Dive and water Sports on the drive up we looked at all the shops and drove along the canal talking about the local animals and Elane's favorite Balanise bird the Buku which makes a sound like UH OH and it makes Elaine laugh, on arriving at Sanur we were given a free welcome drink and debrief about our trip to Turtle Island and what we were doing. we changed into our bathers and boarded the glass bottom boat even Stefan go on. we then headed off on the crystal clear water to a reef where we fed the fish with some bread and watched them through the the glass bottom as they swam effortlessly through the water and round the reef. we also saw the barquentine yachts on the water too the others doing their water sports. we then continued onto Turtle Island.On arriving we had a look at the green turtles on the beach and got to hold them too. Stefan even held one and the we went and saw the baby loggerhead turtles and Tom the Python which Gregory and I held around our necks. I was afraid of getting bitten but the guide said that the snakes mouth was taped. then we went along to see the monkey who liked to play with peoples bracelets he was so cute. We then visited the huge eagle who's name was Lady Ga Ga!!! and then to the big black scary Crow he had a huge beak and was preening himself the on to Harry Potter the big Owl who was named after the owl in Harry Potter and who looked like John Howard with the busy feathers above his eyes and then onto the Iguana who was green and black striped. Stefan love the Iguana and to the huge Fruit Bats, I didn't know they got that big and he barred his teeth at me they looked so soft and furry then the group headed back to the barge dredging the sand out to the bay so the ships could still enter the bay the crane looked like it had a big claw on it. We then go to see the locals fishing from a boat with a big net. Lunch was really nice at a lovely restaurant in Ubud. It was a lovely drive drive through the small villages looking at the rice plantations. It was spectacular at the Coffee Plantation... like walking through a tropical rainforest like a garden of edible plants where we got to see the Arabica Coffee Tree, Nutmeg and Cocoa Trees and the Luwak which makes the poo poo coffee then through to the under cover area where we got to try all different teas and coffees, my favorite were the red rice and ginger teas and the vanilla coffee. We discovered the leaky roof to be fixed with duct tape. Duct tape fixes everything. then drove back to our hotel. We then went for a nice long lazy swim in the pool. Later we went out to dinner at the Wharf Restaurant where they had a band playing and Stefan and Judith danced the night away. I went and had a look at the beach watching the tide go out and looking at the coral. we finished of our evening watching a wonderful display of fireworks. What an amazing day. talk to you tomorrow. Jess




Day 4

Had good sleep in, Judith came and woke me up for breakfast. There was so much to choose from. Today we are having apampering day at the Lemon Tea Spa. We had full body massages foot spas pedicures, hair cut. we all fell asleep during our massages. It was so relaxing to be pampered we all enjoyed the experience and decided we were going to have another one tomorrow. We the headed of to the famous Bubba Gumps restaurant. This restaurant is themed to the movie Forrest Gump it was amazing and when Judith ordered a Martguerita, all the staff came and sang a song, the food was fantastic, Elaine and I shared the bucket of catch of the day which was like a fisherman's basket with lobster, prawns and fish and I got to try lobster for the first time which was really good. We then went to bowling which unfortunately was holding the world championshiops and we were not able to go in. So we went shopping for some clothes bags, wallets and lots of other things. When we returned to the hotel we wnt for a lovely swim and spa. I found a coin at the bottom of the pool which I will keep for good luck. We swam up to the swim up bar and had cocktails and a laugh with the locals. Stefan made some new friends and was talking to them about his holiday. We had snacks on Elaine's verandah before going out to dinner at the beautiful beach side restaurant watching the sunset with the local fishing boats on the horizon, it was amazing. I found the best garlic bread I have ever tasted and I had the best cocktail called a Baily's Comet. Off to bed now as we are going to Kintamani tomorrow can't wait. See you tomorrow...good night Jess.




Day 5

Had and early morning this morning up a 6 breakfast at 7 and then we head up to the lobby to catch the bus to Kintamani. Our first stop was the Bali Barong Dance AMAZING! It was about a good spirit fighting an evil spirit which involked a mischevious monkey and a lion and the villigares. Gregory really enjoyed it his face lit up. It was the best dance ever so graceful the traditional dancers look right at home on the stage. We then headed up to the soap factory where there was handmade soaps and oils and Batik sarong and wood carvings which were perfect and very nice a lot of work has gone into them. We all bought some nice gifts to take home for our families. Then we headed up to Kintamani for a look at the famous volcano and a all you can eat buffet lunch. The views were wonderful. You could see all the Balanise villages below with the banana, corn, chilli and orange plantations and on the other side you could see the Volcano next to Kintamani was the lake. Mt Kintamani erupted in 1993 and a small eruption in 2003. On our way home we had the locals trying to get us to buy stuff, bracelets, sarongs and tee shirts we were bombarded and followed all the way to the bus. I did mange to buy a lovely top from one of them. We then drove back to the hotel through the rice paddies and banana plantations and the wood and stone carvings. On arrival at the hotel we went back to Yani shop and got some more shorts dresses and shirts for Gregory and some Hawaiian shirts for me. Then we went to a restaurant for dinner and I had avocado with shrimp salad it was totally awesome and tasted great we then headed to the mini mart for some supply's especially my seaweed snacks which I love. I bought a lot of them to take home with me to Australia. I was very tired and went to bed because we have a big day at the safari Park tomorrow. Awesome Day I love being on holidays with my friends. Night Jess.




Day 6

We boarded the bus and headed to the famous Bali Safari Park on our was we passed through the different plantations and small villigaes where they did stone and wood carvings we then arrived at the the Safari Park to see the Orangatun, we had photos even Stefan had a photo. We sw the Macaws which were very colourful with huge beaks they are fairly large birds the we saw the Bearcat a cute medium size animal who wass very furrry and playful, he loved my fingers and we had lots of photos with him. We then went an saw the elephant show and after I got some photos withe me hugging the elephant. We then went to see the white Tiger and we all had photos with the biug orange tiger the tiger roared when I was having my photo taken and it gave me a fright the photos are amazing. We then went to see the camels which all of us had a go on it was so much fun and I was very proud of us all for having a go. It is very different from riding a horse. Then we went to ride an elephant this experience was amazing we were so high up and there was a big rocking motion my elephant tried to sit down during the walk and flapping his ears to get rid of the flies. I loved the elephant ride and afterwards we went to Uma restaurant for a buffet lunch and the sweets were yummy. After lunch we went in another Jeep through the Safari Excursion visiting animals from Indonesia, India and Africa. My favorites were the lioness, cheetah, tiger and the zebra. I took lots of photos. When we got back to the elephants all you could see was the elephants scratching their bums on the concrete, it was very funny even animals need to scratch, we sa a hippopotamus with its baby and all the different kinds of antelope and warthogs, tapir, anteater. We went through the water and over a very narrow bridge then we swamped jeeps to get us to the main entrance.We then headed back home to the hotel. We had walked lots today and decided to go for a foot massage it was so relaxing and we all dozed off again. I will definitely go back again. We then went back to the hotel for dinner as this is our last night and we wanted to celebrate with the staff at the Wharf restaurant where the food and staff were amazing. I had my garlic bread again with grilled Calamari with basil and garlic and I finished off with a Cherry Brandy. We then went back to our rooms to pack for our trip home. Family holidays are great but going away with your buddies its so good its indescribable its the best thing ever and I got so much and seen so much I'm definitely saving my money for my next holidays with Discovery Holidays. See you next Holiday Jess
A different experience I had never been cruising before. I had a great time with Kass & Kaye enjoying the entertainment. Not sure cruising is for me but cannot wait until I go on my next holiday.
We had lots of fun!!! Loved attending the Theme Parks, Sea World and Movie World, especially the roller coaster rides. Ripley's believe it or not, Paradise Country, The Australian Outback Spectacular Show. The staff were always supportive and we had lots of fun.
Shady Dealings Kalgoorlie What a great time in Kalgoorlie. The weather was perfect - sunny and 25 all week. We marveled at the Superpit and saw a spectacular blast, had lunch at the famous Broad Arrow Tavern and left our names on the historic walls covered with graffiti from all past travelers. The "pink house" tour was definitely a highlight for all - and WOW - the stories!! Questa Casa, aka "The Pink House", is the ONLY original brothel remaining from Kalgoorlie's famous gold rush. The pink tin is a stark reminder of ages lost. They have the only remaining starting stalls which are still in use to this very day. We nervously toured the rooms where many a miner emptied their wallets, walked where they walked, and saw many left their hearts.
More