DISCOVERY CLUB
MEMBERS PROGRAM
Our members club is all about connecting with our community, creating friendships and offering rewards and discounts to make getting out and about with friends easier. 
We've extended ways we can all keep in touch during the "stay-at-home" phase of the efforts to control Covid-19. Be part of our friendship calls and stay in touch 🙂 
Stay tuned for more news about our online social hangouts and get in touch anytime if you need assistance.  
Latest Member News...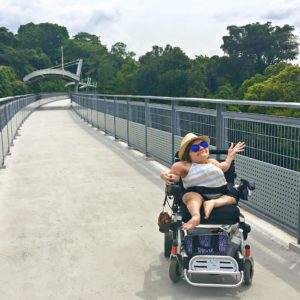 Travelling with a wheelchair is obviously more challenging, however you shouldn't let your wheelchair, or your mobility stop you from travelling and seeing the big wide world; just as you don't let it stop you from living your best life in your own environment. Travelling can seem daunting and overwhelming but the experiences and the memories you'll have, far outweigh the fear of actually getting out there.
Listenable has been great for me personally. As someone who works in the disability industry, I'm always keen to learn more about other disabilities.
The podcast is hosted by Dylan and his able-bodied buddy Angus O'Loughlin, who both speak with amazing Aussies who have different disabilities and their experiences living with it.
Discovery Club membership is complimentary for all Discovery Holiday guests.
To be eligible you must:
Have booked on at least one Discovery Holiday in the last 2 years
Completed and returned a Discovery Club Membership form
Early-Bird Access
Receive advance notice of holidays and events.
Discovery Club Newsletter
Receive your quarterly member newsletter with
all the news, updates, specials and benefits for
Discovery Club members.
Discovery Holidays T-Shirt
Receive your branded member t-shirt in the post,
just let us know your size and preferred colour and we'll get it shipped.
$50 Holiday Spending Money Voucher
Members receive $50 spending money credit on every international or interstate holiday booking.
Luggage Gifts
Silver Members can choose one item from our quality travel ware range when you travel.
Exclusive Early-Bird Discounts
Quarterly Members Newsletter
Member Referral Rewards Code
Discovery Holidays Member T-Shirt
$50 Spending Money Voucher Every Interstate or International Holiday
Exclusive Early-Bird Discounts
Quarterly Members Newsletter
Member Referral Rewards Code
Discovery Holidays Member T-Shirt
$50 Spending Money Voucher Every Interstate or International Holiday
Luggage Gifts
Silver Members : Have travelled on 4 or more Discovery Holidays